New version of L4 Root zone soil moisture product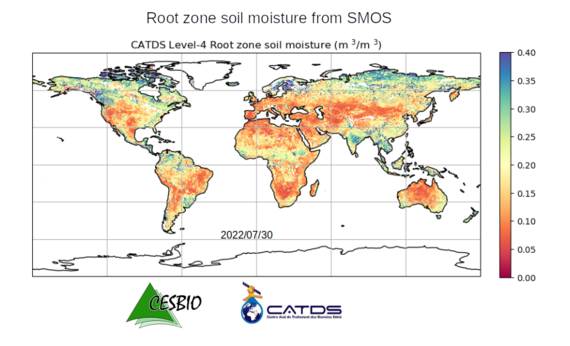 Root Zone Soil Moisture is a key element conditioning vegetation growth or stress of course, but is also, on a longer term, a climate variability indicator. It can be used to monitor extreme events such as droughts and floods.
As its knowledge is crucial to study the evolution of the vegetation in a changing climate CATDS now delivers Root Zone Soil Moisture (RZSM) derived from SMOS measurements.
The data are available on https://data.catds.fr/cpdc/Land_product/GRIDDED/L4SM/OPER or RE07/
The products are separated into morning acquisitions (ascending passes: MIR_CLF4RA) and evening acquisitions ( descending passes: MIR_CLF4RD).
This is a new product so we are looking forward to hearing from you! Your feedbacks, (bad and good) are most welcome: yann.kerr@cesbio.cnes.fr/arnaud.mialon@univ-tlse3.fr
More information and product access here.